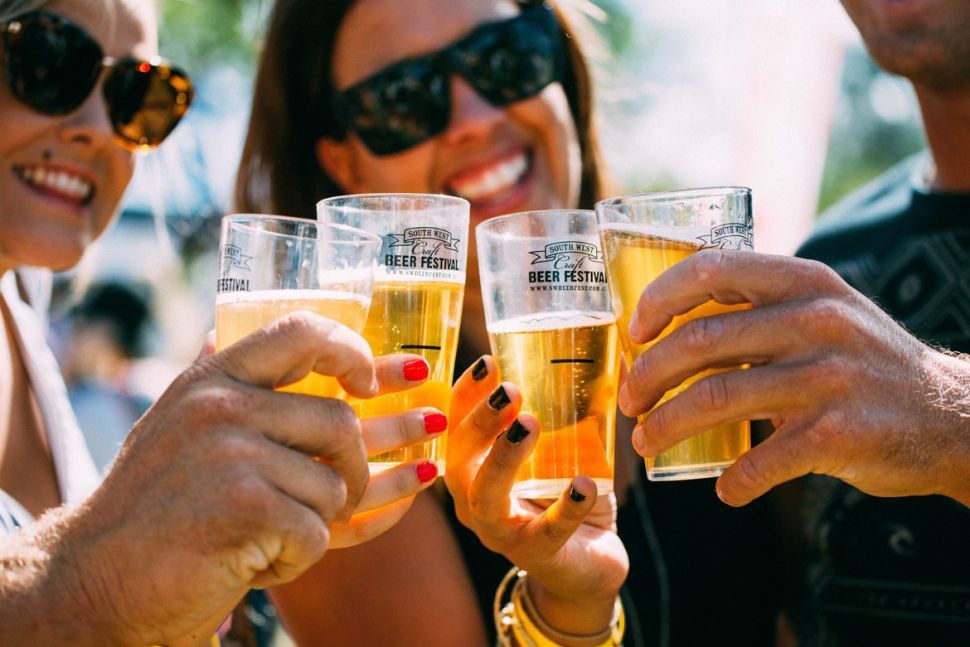 The South West Beer Festival is BACK and bigger than ever for a massive 2024!
We'll be tapping kegs and pouring pints back again at Signal Park – situated right on the stunning Busselton foreshore – celebrations will take place on the St. Patrick's Day weekend of Saturday 16th of March.
Back by popular demand, we will have one big session running from 11am – 7pm ending the session as the sun sets over Busselton. Once again our event will feature even more brewers than in previous years who will bring a wider range of beers, wines and ciders than we have ever seen before at the SWBF. We'll have ales, pales and everything in between for you to sample. And if you find yourself in the awkward position of being at a beer festival and suddenly remember you don't like beer, we'll have you covered with a tidy selection of ciders, wines and frozen slushies!
Have the chance this year to win awesome prizes and exclusive opportunities for those that embrace the St. Patrick's Day theme the most.
Frothie lovers will rejoice at the incredible range of 150+ brews to try from 25 craft breweries and cideries such as Rocky Ridge, CBCo, Eagle Bay, Boston and Brewhouse Margaret River, including some crazy, delicious, once-off and new release brews showcased by each brewer at their bar.
Throw in some local gourmet bites and some of the best live acts and DJ's from the region, and the South West Beer Festival is a real highlight of WA's Summer calendar. Avoid FOMO and grab your tickets today!
Frequently
asked questions
Date and time of the event?
The event will take place on the 16th of March 2024, the gates will open at 10.30am, last drinks will be served at 6.45pm and the event will finish at 7.00pm
How much are tickets?
2 for $25 – Limited time mates rate deal
General Admission $20
Family Pass $40
4 for $60 – Buy 3 get 1 free – Skippers Ticket Deal
–       Please note, this is the only initial release and prices will change!
What does my ticket include?
Most importantly your ticket includes your cup and wristband which gives you access to all drinks at the festival.
Your ticket also includes one on one interactions with the biggest breweries the South West has to offer, awesome tunes from local DJs and bands, as well as access to some delicious bites in our food truck zone.
What does a Cashless event look like?
Once again there will be NO tokens at the SWCBF! All breweries will have their own Square device so you can pay directly at their tent and enjoy even more delicious beers and shorter queues! This means that you must remember to bring along a debit/credit card as there will be no cash accepted on the day!
How much are drinks at the Festival?
Tasters (150ml) are $4 each and middy's are $9 and our festival Schooners at 425ml are available for just $12! Some breweries also offer cans which will be available for $9/$10.
Can I bring my kids?
 The 2024 event will again have a family zone! This is a private area with shade, grass and seating where families can take the kids away from the main festival if they want some quiet time. Kids are also welcome out in the main festival area if accompanied by a parent.
Will there be food and non-alcoholic beverages available?
 Yes, at the South West Craft Beer Festival will have the best local food trucks in the South West parked up to keep your lunchtime hunger at bay. Our food vendors will also be selling a range of non-alcoholic beverages. For more information about our 2024 line-up head to our food vendors page.
What do I need to bring with me on the day of the Festival?
Please make sure you bring your ticket with it displayed on your phone screen and your ID ready, so we can scan you in as quickly as possible. We recommend you slip, slop, slap for your day out and bring your best party energy so we can make the most of the day!
How do I nominate a South West Brewery, Band or Food Vendor to be a part of the Festival?
We recommend you email us at buzzus@buzzmarketing.com.au
Can I bring my pet to the Festival?
As much as we love our four-legged friends, pets are not permitted at the festival due to health and safety regulations. If there is a medical need for bringing your pet along, please contact us to organise festival access in advance.
What is your Smoking Policy?
The South West Craft Beer Festival is a non-smoking festival.